2019 in Review: What We Learned From 12M Instagram Story Views
As we start working on new influencer marketing ideas and strategies for 2020, we are taking a look back on all the work we did in 2019.  While a lot of people might have shared their 2019 year in review the last week of the year, we had 18 campaigns ending on December 31, 2019 and didn't want to calculate the totals without all those final numbers.  We work hard until the final second on the game, if you know what I mean. 
Last year, we had the pleasure of working on influencer marketing campaigns for country, state, and city tourism boards, airlines, hotels, museums, attractions, footwear, and food and beverage companies. We had many recurring clients and a lot of new ones, all with individual goals and KPIs. From Germany to Nevada, 5-Hour Energy to San Antonio, Under Armour to Petoskey, we worked with almost 300 influencers, sent 139 of them on trips, hosted 23 Twitter Chats, edited 305 influencer blog posts that had over 1.7M views, and saw over 4,765 IG stories shared for our clients—garnering over 12M views. 
Before we get caught up in the new year's campaigns, we want to take a look back at what worked really well, what worked enough, and where things fell flat. 
Let's break it down, Travel Mindset's Influencer Marketing Year in Review: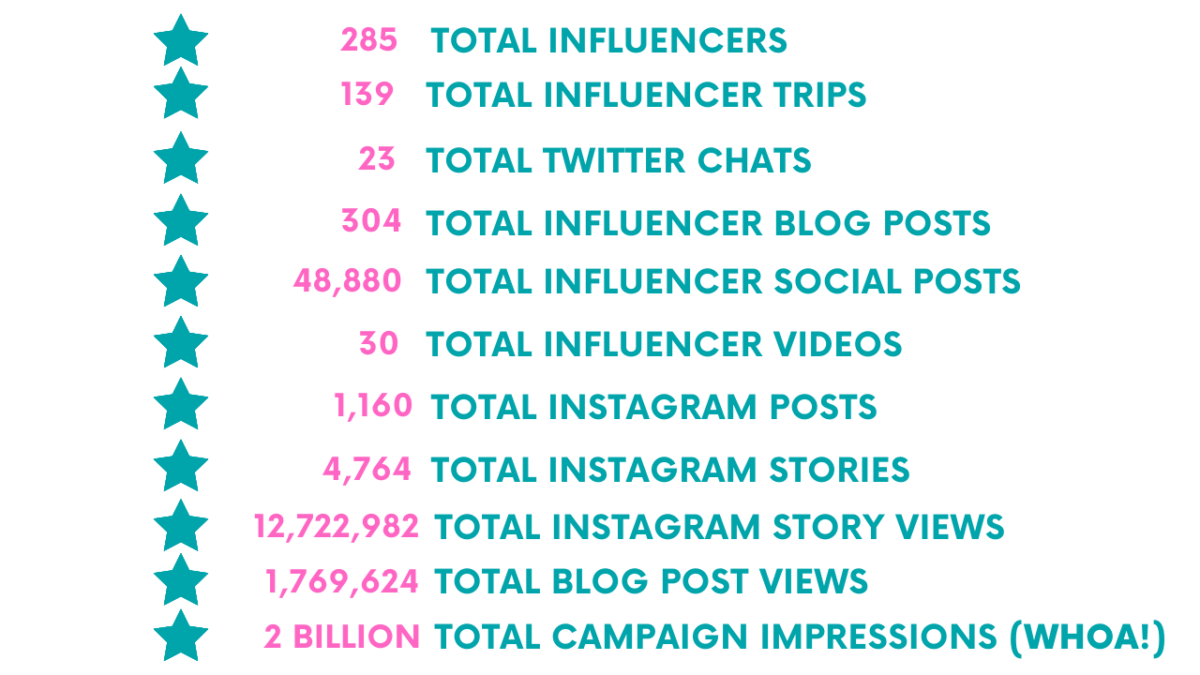 As you can tell, our Influencer Relations Managers were BUSY in 2019. What we haven't calculated was how many emails our team sent influencers over the last year or how many DMs hit influencer inboxes before any of those social posts went live. That behind the scenes work is what made all of our campaigns not only hit those KPIs, but, in most cases, more than double the expected results. 
We believe that the best influencer marketing campaigns involve a lot of behind the scenes management to make sure the gorgeous photos, well written blog posts, and in-depth videos get the love they deserve–and thus, exceed all expectations. So, all of our campaigns start with a kick-off call to chat through goals, KPIs, and what success looks like for them. Every client is different, and while some want a lot of involvement, some want a hands-off approach. Our team is great at accommodating a variety of working styles to make sure we all hit those marks. These kick-off calls really helped us nail down ideal expectations verses real, achievable milestones. Ironing out all the nitty gritty before we select influencers helps guide us and our clients to partnering with the best influencers for them and their goals. 
We've found that when we collaborate with an influencer at the beginning of the campaign, we discover how this influencer works best and what type of content they can create to hit the client's goals. Within this collaboration, we've found that some client's are still looking for those unicorn influencers, the ones who can do it all—shoot video, take amazing photos, have killer engagement on Instagram, do Facebook Lives, have a blog with over 100K unique visitors a month and so on. These types of people rarely exist, so we try to be very specific in our influencer selection process and detail the WHY of a particular influencer. This goes well beyond follower count, highlighting older campaigns they've participated in, video or blog post examples which showcase writing abilities, photo assets they could potentially offer, etc. 
Overall, we've streamlined our processes this year and it's resulted in our influencers creating better, more authentic and captivating content for our clients.
Key Take-Aways for 2020:
Your goals determine the best influencer for your campaign. While an influencer can do a lot, they can't do everything. An influencer who is an amazing photographer might not be the best writer and the best videographer might not have the best engagement on Instagram. When you nail down your goals, you'll be able to easily pick the perfect influencer for your needs—someone who does exactly what you need better than others. 

Instagram is still king, with every client ranking it as their top social channel for posts. We are seeing a lot of variety within Instagram posting—from IG Stories to IGTV, videos in the feed and IG Lives. To get the most out of it, make make sure to utilize all elements of the platform.

Engagement from brands is still down. We've noticed that overall, most brands are not engaging on influencer's social posts despite our 'Best Practices' guides. There is no reason why any influencer post should be without a comment from the brand. It's a great way for brands to organically interact with the influencers' audience while raising awareness and increasing potential followers.

If your brand does one thing in 2020, do that!

Blog post traffic greatly varies from one influencer to the next. In the same campaign timeline, we've seen 100 blog post views all the way to 60K. A huge photographer on Instagram most likely isn't going to have a ton of blog traffic. If clicks to your website are very important, look at blog stats and social click through rates to determine which influencer to work with. Your brand should also share the blog post on their social channels to get more people to view the content. You paid for it…share it! 
Content Assets will be a bigger push in 2020. This past year, almost every client wanted content assets from campaign. Whether it be photos or videos, all clients need more streamlined content. So, we will be adding some into most of our campaigns throughout 2020.
The posts with the most engagement are – not surprisingly – the most engaging experiences. If you want your product or destination to stand out, you have to provide an amazing experience for the influencer (and hopefully regular visitors, as well). 
Repurpose and share influencer content smartly. Most influencer content is shared and then forgotten, don't let that happen to you. Repost on a #TBT or #WanderlustWednesday. If you share the influencer's post, they will likely reshare from their accounts and ignite the conversation around your brand all over again.
Instagram Stories are, far and away, the best place for your brand to showcase its personality. You have a captive audience watching, tuning in multiple times a day. These snackable videos and photos are a great way to share content, link out to events or products, re-share influencer's posts, host influencer take-overs, etc. Get creative and don't underestimate this space. 
We're excited to continue to push boundaries in 2020. We have a lot of new, exciting activations and social campaigns up our sleeves and would love to have you on board! Let us know if you want to talk strategy and/or need some new ideas to shake things up in 2020.