3 Concrete Ideas To Help Your Local Community Thrive During COVID-19
As businesses across the country are taking hits from COVID-19, we've seen local communities come together in ways that we've never seen before. In the early days of the pandemic, destinations initially started off by posting encouraging messages and support across social media, as well as starting new initiatives like going live on Instagram and Facebook to bring their destination to quarantined audiences. As the virus continued to spread and 'business as usual' was completely shut down, endeavors across the country started to pick up and communities were getting creative with new local love projects. While all of these have been so positive and impactful, the level of support continues to grow. Below is a recent curation of 3 concrete projects that are inspiring us to stay strong and help out when and where we can—we're all in this together.
Showing your local communities love now will increase their trust in you and they'll become a passionate ambassador for you in the future.
Nourish Lexington
Nourish Lexington was created to support hospitality workers who are now unemployed due to COVID-19 business closures. The initiative gives these workers the opportunity to use their skills and provide meals to those who need access to food. They receive $60 for a 4-hour shift that involves preparing and delivering the meals.

Visit OKC
Visit OKC has put together a resource page on their website dedicated to supporting different industries in their community, including restaurants, shops and services, attractions, gift cards and more. Their site allows you to browse restaurants that are open for delivery and/or takeout; attractions providing virtual activities and tours; as well as local stores you can shop online at.
Keep Hawaii Cooking
Central Pacific Bank and the Central Pacific Bank Foundation came together with their Hawaii community with the goal of sharing 10,000 meals through their project, #KeepHawaiiCooking—and they did it! Check out their genius idea here: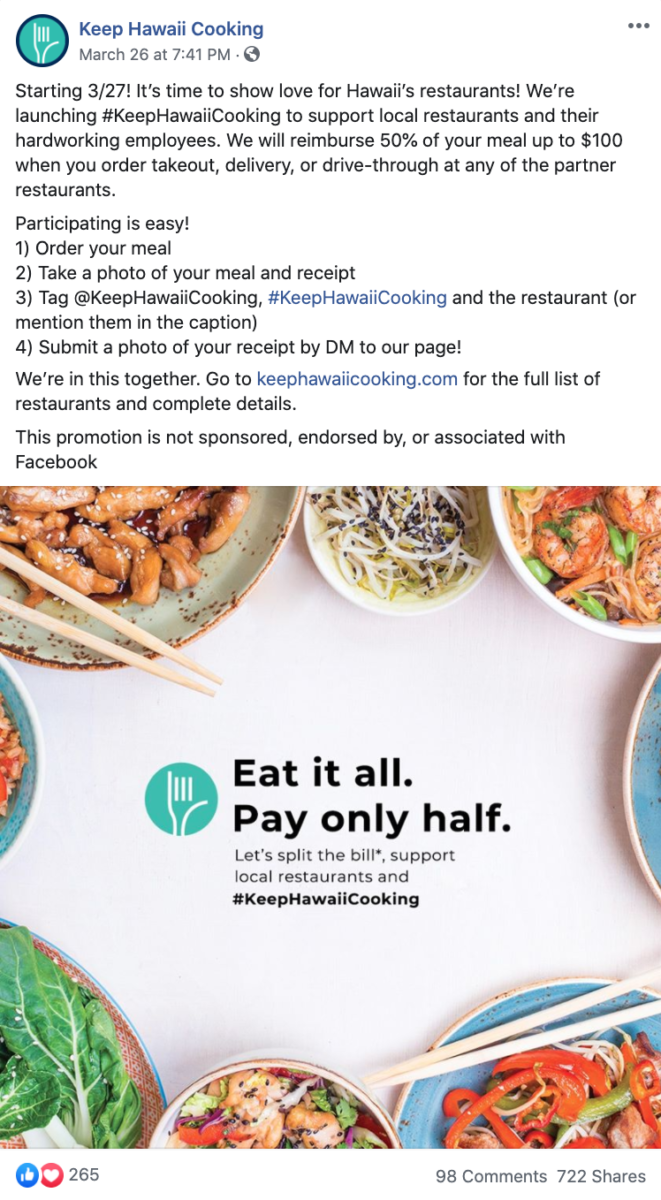 ---
Here's to coming together, and coming out stronger.