How To Repurpose Influencer Content Now
According to a recent 2020 report, 70 percent of marketers say influencer content performs as well or better than brand-produced content. This is especially important right now during the COVID-19 pandemic, as consumers are not interested in being bombarded with sales messaging from brands. Repurposing influencer content on the other hand, allows your brand to stay relevant and top of mind through storytelling and reviews from trend leaders and key players in your space. Not to mention, it's also free to do. Here's a how-to guide on repurposing influencer content.
Step 1: Source content
Look through your tagged posts on Instagram.
Assuming you may not already have a library saved of influencer content or consumer photos, now is the time to go through your tagged content on Instagram. We recommend even creating a folder within the "saved" feature of the app for photos worth reposting. Staying organized is key!
PRO TIP: Rather than screenshotting photos and risking a poor crop or a decreased quality in resolution, try a Chrome extension like Downloader For Instagram, which quickly downloads selected images and saves them directly to your desktop. Many of these plug-ins and extensions even name the file with the handle of the Instagram account that the image was sourced from, making photo crediting that much easier to remember.
Gotta love good old Google.
Google your brand. Yes! Google it! You'll be shocked at what might come up. Your brand could be mentioned in travel guides, blogs, reviews, tutorials and more. Create a spreadsheet and start tracking any gems you find. Be sure to search YouTube, too!
Research influencers in your space and think outside the box.
If you've exhausted your tagged photos and need new ideas, now is the time to engage with influencers who live out your brand's values and lifestyle (even if they're never heard of your company). Example: say you're a health restaurant that has closed temporarily but you want to keep posting content that is relevant, engaging and provides value to your audience. Beyond original content ideas (like sharing at-home recipes), think about other topics that your target consumer would be interested in. They're obviously into health and wellness, so why not repurpose an at-home workout from a fitness influencer that lives in your city? This is a great way to engage with locals and can get your foot in the door for possible collaborations when you're back in business.
Step 2: Share, share, share!
There are so many fun approaches to sharing and repurposing the content that you dig up. Here are some ideas to get your brain buzzing:
Compile quotes, images and videos that you find via social, blogs, testimonials, etc. and share them in a compiled blog post for your own website.
Create a guide that relates to your brand or industry with influencer photos and content as examples throughout the guide. We actually did this in a virtual travel guide format. Check it out here.
Repost beautiful, on-brand photos to your social platforms. Try including a strong CTA to further engage your audience.
Create an Instagram Story Highlight with tagged photos to show brand love and create that beloved halo effect.
Share content in a "Let's Get Social" footer of your email newsletter.
In the example below, @visitaustintx repurposed an influencer/photographer's photo and tied it back to their brand by directing followers to visit the link in their bio for Austin-owned and operated fitness studios offering streaming classes.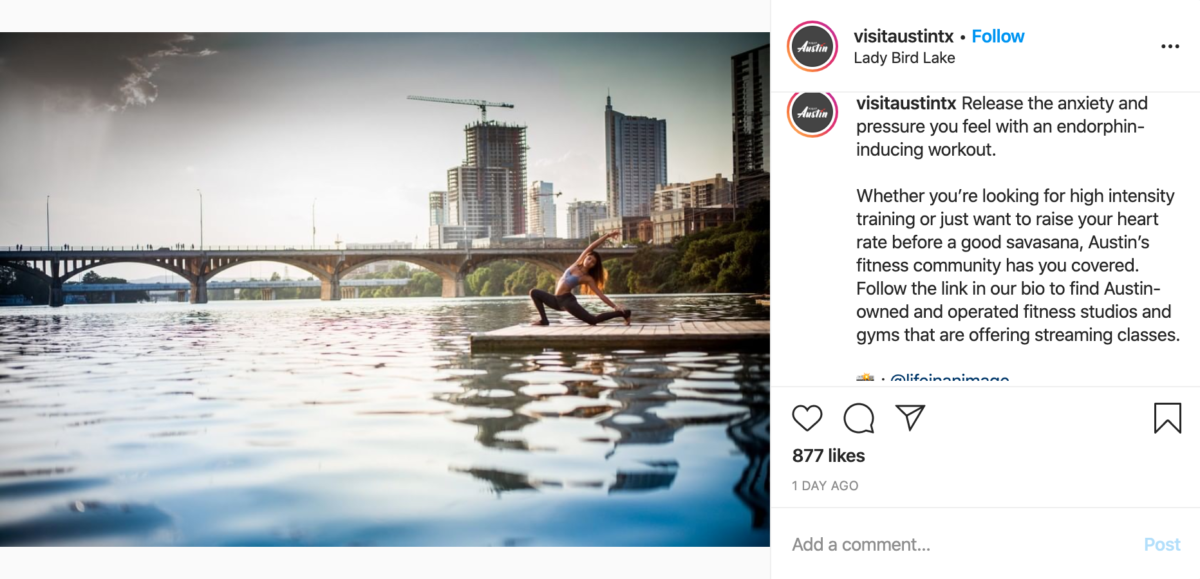 PRO TIP: Don't forget to tag the influencer's handle in both the photo and the caption of the content you're repurposing. This is important not only from a crediting and ethics standpoint, but it can also position your brand as a leader in the space and can help with brand awareness (tagging the influencer allows them to re-post it to their stories). When you tag an influencer, you're showing your audience that key players in the community are loving your brand, while simultaneously building the culture your brand represents. Bonus: The influencer will most likely reshare your share, getting their audiences onto your feed.
Step 3: Share some more…
Last but not least, share your final post/blog/etc. with the influencer(s) that you featured in your repurposed content via a DM or email. Often times, they will share the link with their audience too, and this just goes back to the brand awareness and community building aspects that we spoke of previously. It's all about using what you got and using it to its full potential, which takes us to our last step, which is optional.
Step 4: The cherry on top
Okay, so your repurposed influencer content is now published and live. If it's performing well organically, why not play around and put a little money behind it to reach a larger audience? Boost it in increments and experiment with different ad techniques. Be cautious about how you go about this. Now is not the time to really push insensitive sales ads, but it is the time to share stories that can inspire and help people through these uncertain and hard times.
—
Need some help with your influencer content game? Ping us – we got you! We also created a resource library to help your brand navigate marketing during these times. Check it out here.