Influencers Making a Difference During COVID-19
While it is easy to want to hide away when things get hard, now is the time to be visible and a leader for your community. How are you helping your social media audience at this time amidst the coronavirus pandemic? We've been seeing some amazing original content, alongside some content that is, well, not so accurate or positive. Below, we're sharing a handful of influencers across different niches who are spreading light, support, and information for their communities in a creative way we totally back.
@BonTraveler designed a creative and small biz resource guide with the intent to educate her audience on how they can support those who are being hit hard financially by the crisis.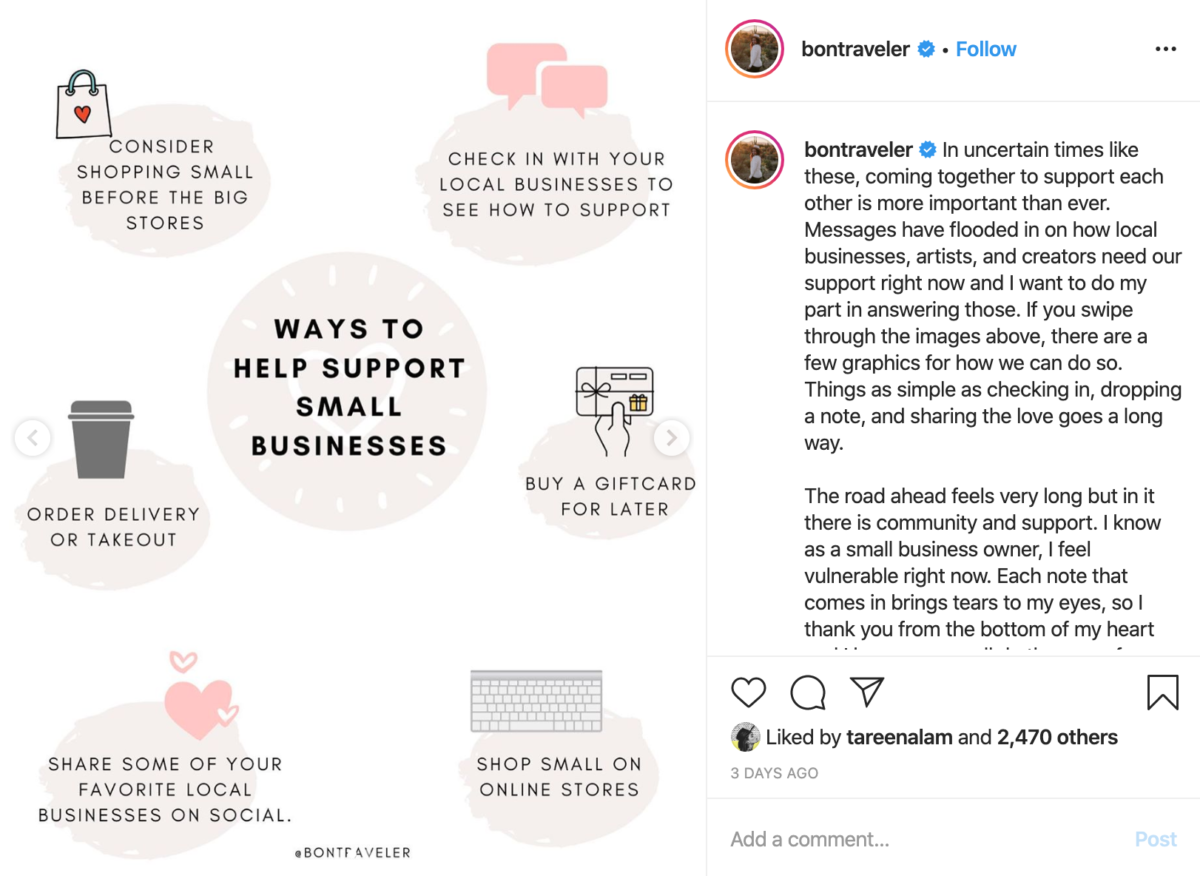 @HannahBronfman created a WFH schedule as a resource for her audience to stay focused, balanced and productive while quarantined. Maintaining a routine is key! Additionally, Hannah has been posting charities on her Instagram story that are dedicated to supporting those who need it most.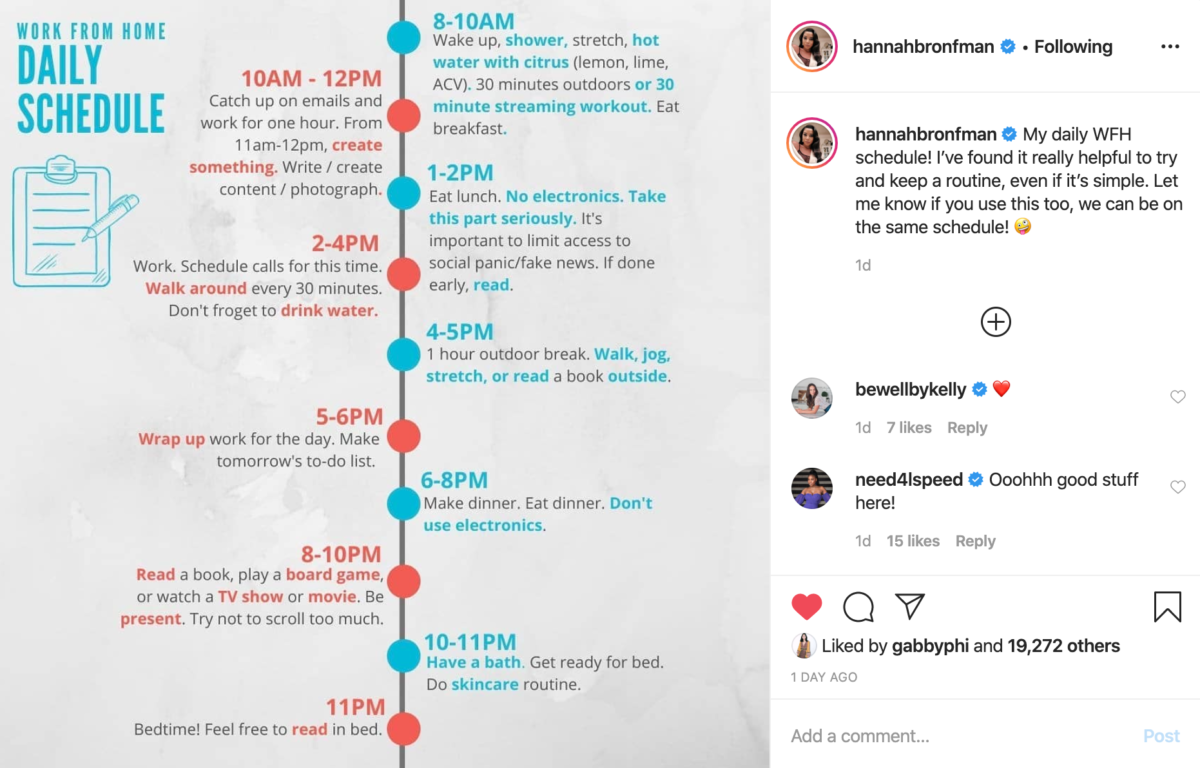 @Claire_Siegel is sharing content around staying healthy during coronavirus. As a registered dietitian with a substantial following, she is helping hundreds of people with their emotional connection to food. She posts great graphics that make you think twice about your mindset and approach to eating.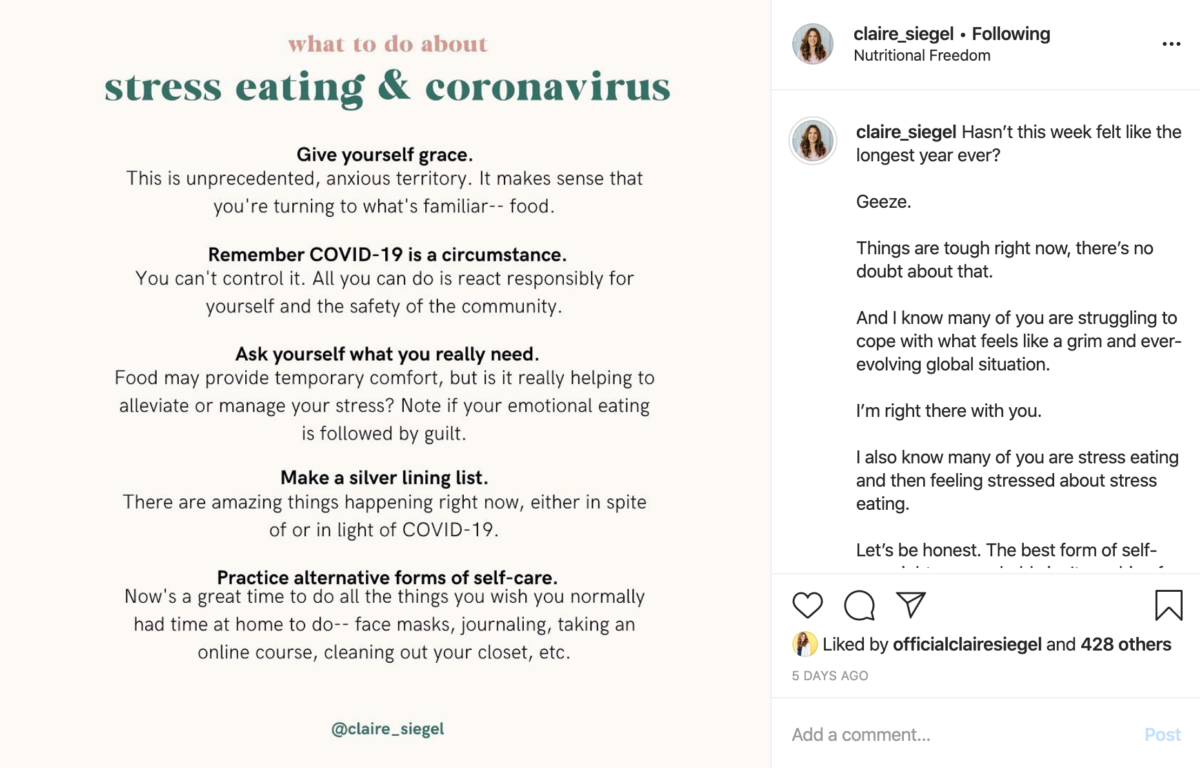 @JoannaGaines is hosting a virtual vendor fair to support makers, crafters and artisans that make her Spring at the Silos event so amazing (but had to be cancelled this year for safety and health). She is doing this "with the hope of making it easy for you to see their product and shop their websites directly."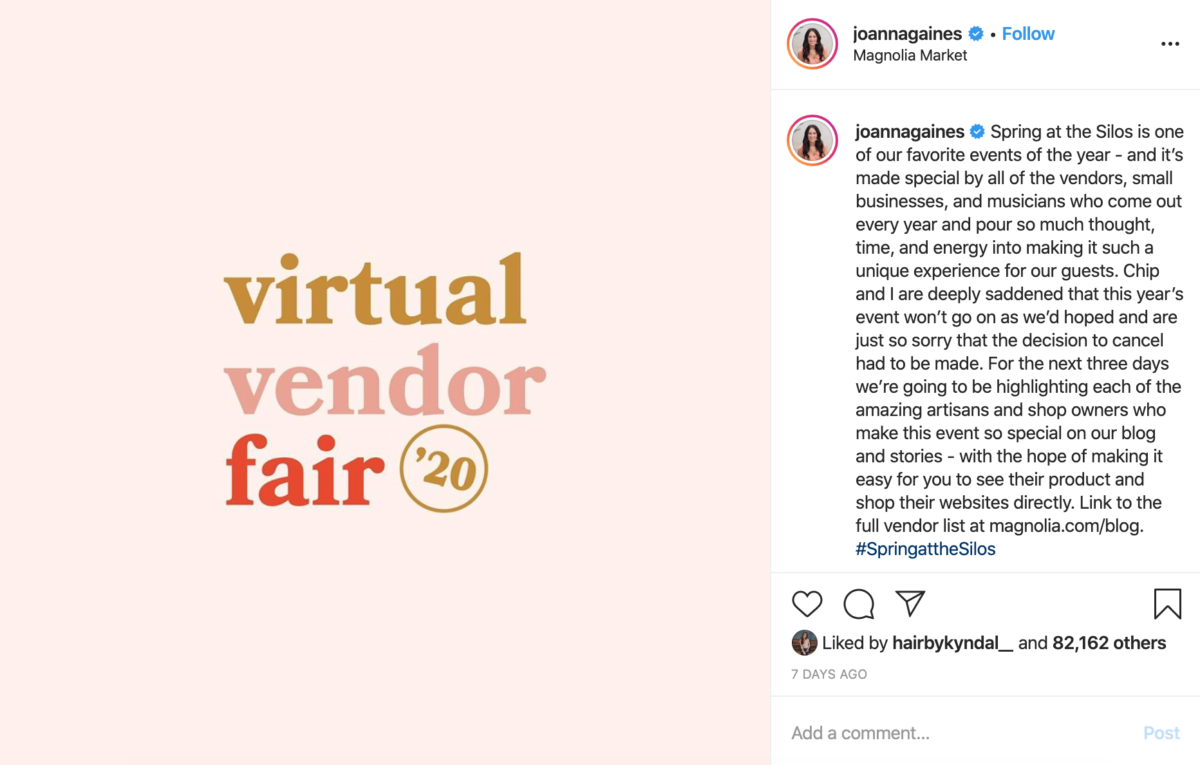 @Spinsyddy, along many other sweat gurus, is live streaming workout classes due to gym closures. As a fitness instructor and influencer, she's showing up for her following by providing free, at-home workouts for those who want to stay fit while #socialdistancing.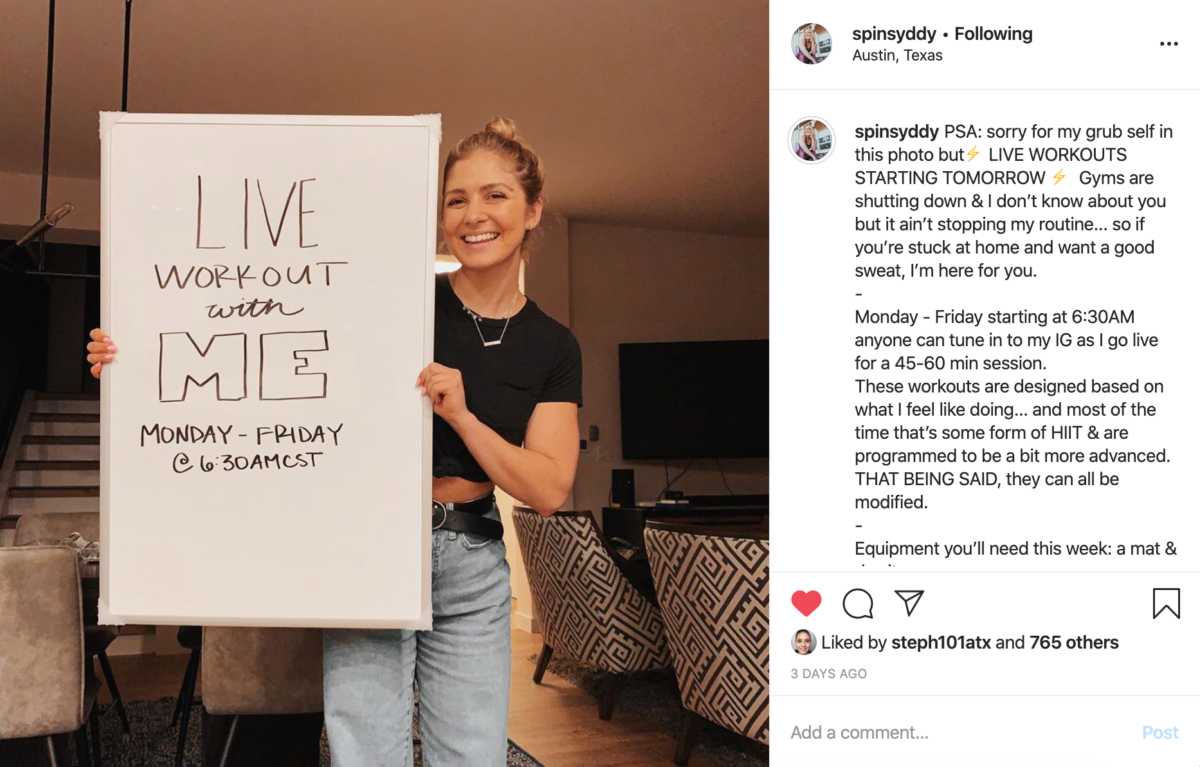 @CristinCooper is giving back – she updated her bio to include: "100% of my commissions 3/16 – 3/23 will go to help families with lost wages from COVID".

@Millennial.Therapist is posting content to help those struggling mentally during quarantine. From setting boundaries around coronavirus to connecting and supporting each other remotely, she has you covered.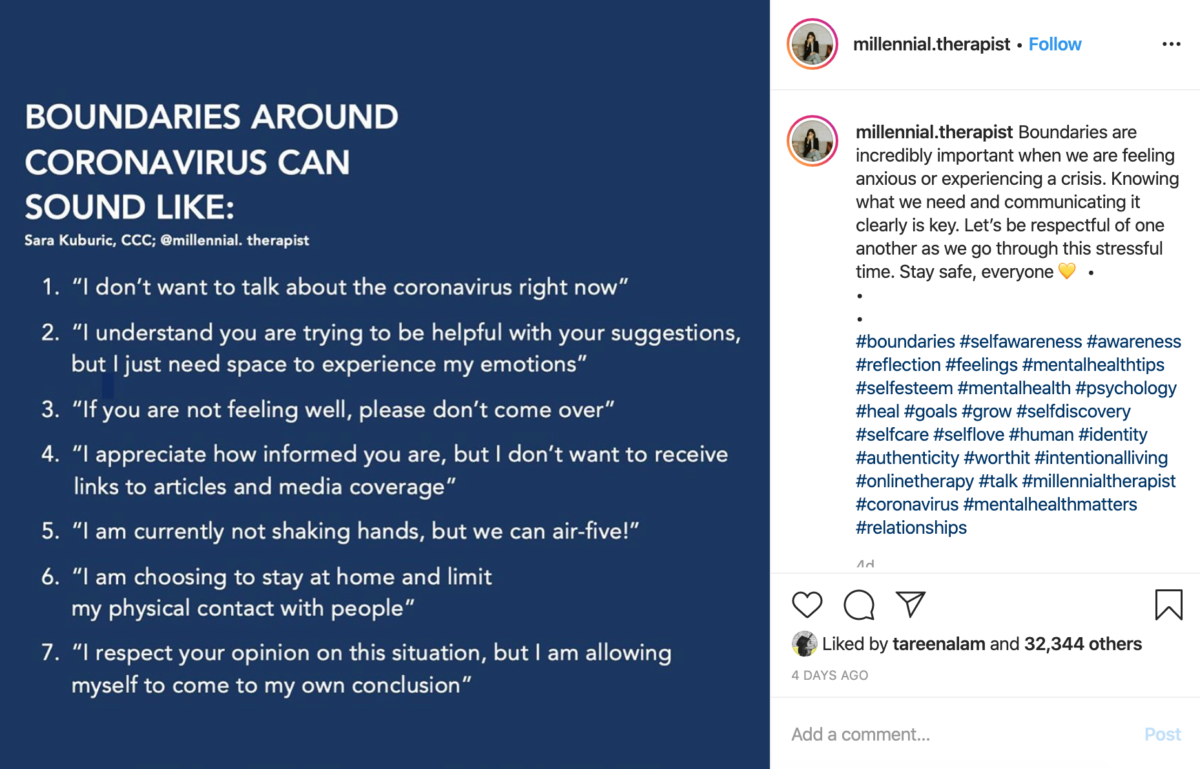 @DannyMorel is sharing some straight up GOOD NEWS about progressions in tackling, killing and curing coronavirus.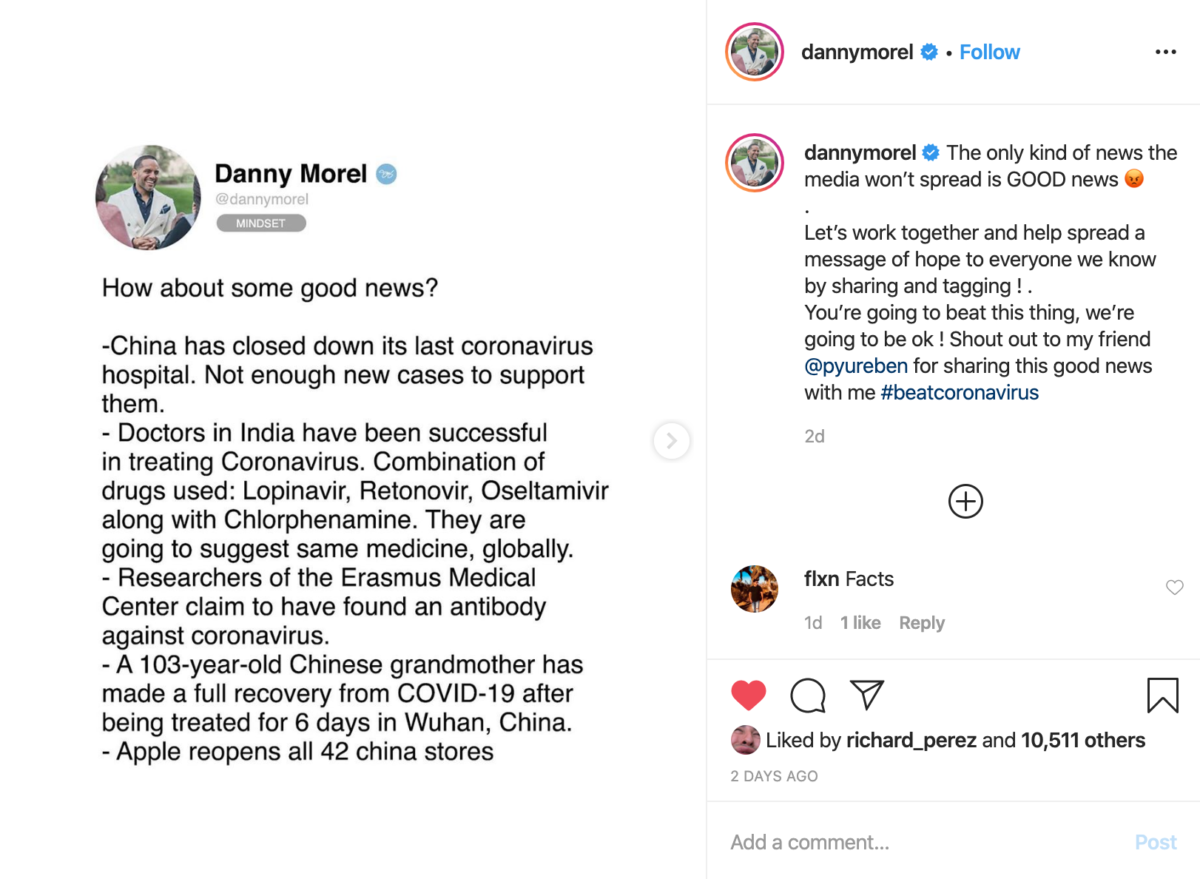 Whether you're an influencer, brand, or an everyday Instagram user, we can all spread some time of light during these times and we're so grateful for those who are.